Healthcare CUSTOMER OWNED GOODS (COG) Services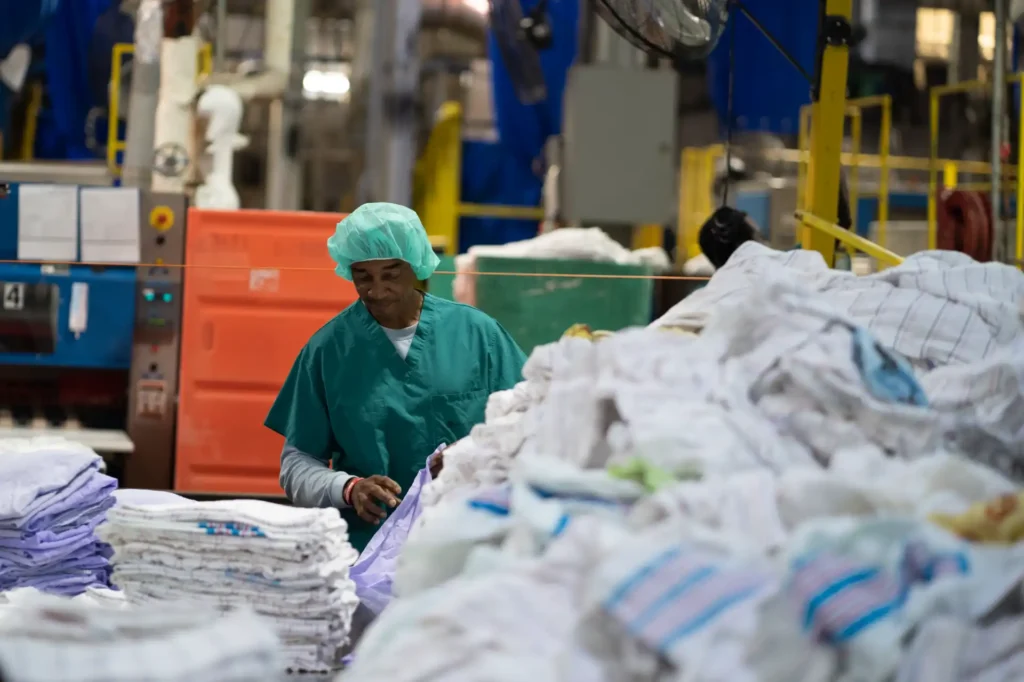 healthcare customer owned goods (COG) services
At EverGreen Linen, we understand that owning your own linen inventory can be a smart and cost-effective choice for your business. To cater to facilities that prefer to maintain ownership of their linens, we have tailored our laundering programs to meet your specific needs. Our Healthcare Customer-Owned Goods (COG) Program allows you to retain control of your linen inventory while still benefiting from our premium laundering services. We take pride in our commitment to maintaining the quality and hygiene of your linens throughout the laundering process.
Our disinfection process incorporates an EPA-registered laundry disinfectant oxidizer with kill claims against 11 microorganisms of concern on healthcare linen. This process surpasses both chlorine and peroxide methods in disinfection efficacy, whiteness retention, linen durability, sustainability, and overall performance. With us, you can rest assured that your linens are impeccably clean and disinfected, surpassing the industry standard.
Our "Keep Separate" program ensures the segregation of your linens from those of other clients, effectively eliminating the risk of cross-contamination and preserving the accuracy of your inventory count.
With our COG program, you can enjoy the convenience of professional laundering services while maintaining control over your linen inventory. EverGreen Linen is dedicated to providing high-quality services that meet the unique needs of our clients.
At EverGreen Linen, we stand apart from the competition by upholding a set of values that have guided us throughout our journey. From the very beginning, our vision has been clear – to treat people the right way, whether they're clients or members of our dedicated team. We wanted to create an intimate bond with our clients, fostering a level of trust and understanding that transcends mere business transactions.
Transparency and an engaged management team are the cornerstones of our approach. We don't overpromise, and we're honest about deliverables. Our commitment is to grow strategically throughout the Southeast, seizing opportunities to make a great impact for our clients. At EverGreen Linen, it's more than just a business; it's a commitment to people, integrity, and a vision to grow together. We believe that when you put people first, success naturally follows. If you're new to EverGreen Linen, we invite you to join us on the journey to provide you with exceptional linen services and build a lasting relationship along the way.
To stay updated with our latest developments and industry insights, we invite you to get started by contacting us here or connect with us on LinkedIn.
WE ARE EVERGREEN LINEN SOLUTIONS
Where relationships matter